Check out Dimple Art. It's a great place for that unusual gift. When you order, you get the following: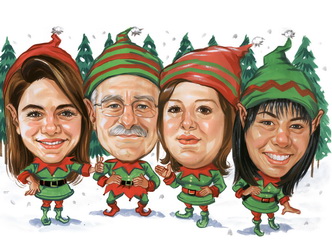 Your Caricature In Digital Format
Great for websites, emails, and using as personal clip art!

Your Personal Caricature E-Card
Your awesome picture right there on the card!

Your Caricature Wallpaper
What better way to personalize your computer with your caricature!

Your Caricature Software
Change your caricature whenever the mood strikes! It's fun!

Get Your Personal Caricature Products
Great conversation starters!

Here is a sample of some of the various caricature items you can purchase: mugs, postcards, tank tops, tote bags, t-shirts (all sizes), sweatshirts, baseball caps and jerseys, aprons, bibs, boxer shorts, wall calendar, wall clock, stickers, etc., etc. If you're looking for a unique gift for the newlyweds, a graduate, mother's day, the couple who have been married for many years or even the bowling team, this could be the place to get it!
Some links on this page or post may be affiliate links. This means if you click on the link and purchase an item, we will receive an affiliate commission. Regardless, we only recommend products or services we believe will add value to our readers.