Archive for Outsourcing
Have you ever wished you could outsource your extra work at no cost? You can, through an internship and there is a training program to show you how to do just that – Outsource for Free.
By offering an unpaid internship program, you would take a new assistant under your wing, train them, mentor them, and give them real projects to work on so they can hone their skills.
After completion of your internship program, they will have more skills and experience that will make it much easier for them to get paying clients. Because you personally trained them to work in your business, you will have the opportunity to hire them to work with you.
Please understand you'll be able to outsource tasks in your business for free while your unpaid intern is going through your training program, but it will require a lot of input and feedback on your part.
With Outsource for Free you'll get a 6-step report, a checklist, 21 intern interview questions, and a 4 steps to internship flow chart.
Did I mention the cost for this is only $19 right now?
This is what the report contains: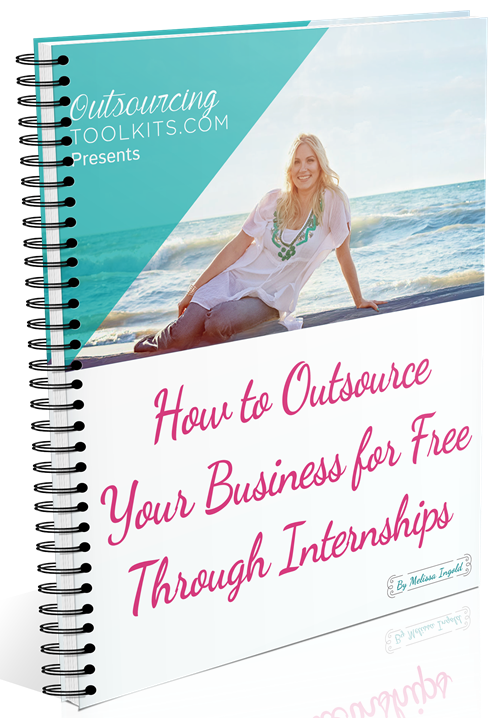 Introduction: How to Outsource Your Business for Free Through Internships
Step 1: Understanding Internships
Step 2: Planning Your Internship Program
Step 3: Finding the Right Intern – Preparation
Step 4: Finding the Right Intern – Asking and Advertising
Step 5: Interviewing and Hiring Interns
Step 6: Accountability and Responsibility
Wrap Up
If this sounds like something you'd like to implement, check it out before the price returns to $39.
To Your Success,
Suzanne
Some links on this page or post may be affiliate links. This means if you click on the link and purchase an item, we will receive an affiliate commission. Regardless, we only recommend products or services we believe will add value to our readers.